Family:
Funguar
Found in:
Carpenters' Landing

Found at Location:
I - 11
Level:
35
Flags:

Notorious Monster
Based on Dark
Weak against Light
Strong against Darkness
Strong against Water

Drops:
Stolen Items:
Updated: Mon Apr 7 05:25:48 2008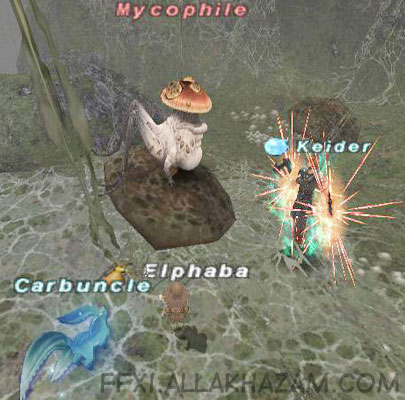 Respawn time on the ??? is 15 minutes after Mycophile is defeated or despawns.
Immune to Silence. Susceptible to Bind, Gravity, Paralysis, Stun, and Slow.
Bio - Single target Darkness based DoT with an additional Attack Down effect.
Blind - Single target Blind effect.
Poison - Single target Poison effect.
Virus - Single target Virus effect.
Virus effect removes 5 TP/tic and 3 MP/tic.
A mycophile is the term given to individuals whose hobby is hunting mushrooms.
This page last modified 2010-05-15 17:20:28.