Family:
Beetle
Found in:
Carpenters' Landing

Spawned using:
Honey
Level:
0
Flags:

Notorious Monster
Aggro
Linking
Based on Earth
Weak against Ice
Weak against Light

Drops:
Stolen Items:
Updated: Fri Dec 28 16:26:12 2007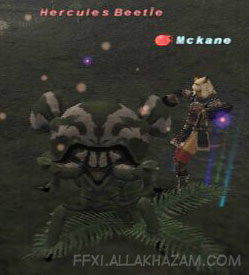 This NM is spawned by trading Honey to the three ???s at G-7 or I-10. Trades must be made at night from 22:00 to 4:00.

After 4:00, examining one of the ???s that had honey traded to it may result in the NM appearing.

The ??? must be checked before 7:00, when they despawn.
Highly resistant to physical damage.
NM has roughly 2,200 HP.
This page last modified 2010-05-04 00:31:35.