Family:
Rabbit
Found in:
Uleguerand Range

Found at Location:
K - 11
Spawned using:
San d'Orian Carrot
Job:
Warrior
Level:
70 - 72
Flags:

Notorious Monster
Aggro
Not Linking
Based on Earth
Weak against Darkness
Weak against Lightning
Weak against Water

Drops:
Stolen Items:
Updated: Wed Jun 29 23:33:56 2011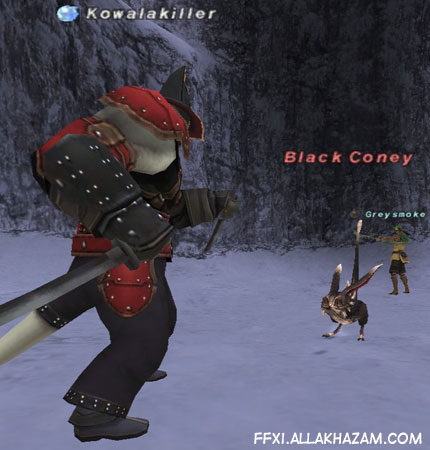 Black Coney can only be spawned during a New Moon
Respawn time on the Rabbit Footprint is 15 minutes after the New Moon phase first begins and 15 minutes after Black Coney has been defeated or despawns.
The Rabbit Footprint will move periodically around the area of (K-11)
Susceptible to Bind, Gravity, Sleep, Stun, and Slow. Susceptible to Paralysis, but builds a resistance over time.
Foot Kick - Single target critical hit physical damage.
Snow Cloud - Frontal cone AoE Ice based magic damage with an additional Paralysis effect.
Whirl Claws - AoE physical damage (Circle of effect originates from mob).
This page last modified 2011-06-29 18:36:38.