Family:
Skeleton
Found in:
The Eldieme Necropolis

Job:
Black Mage
Level:
0
Flags:

Notorious Monster
Aggro
Not Linking
Based on Earth
Weak against Fire
Weak against Light
Strong against Darkness
Strong against Ice

Involved in Quests:
Updated: Wed Jun 16 20:20:31 2010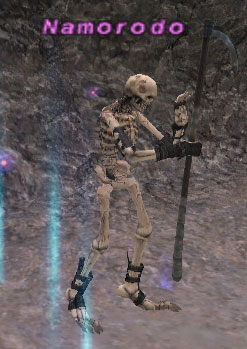 Respawn time for the ??? is approximately 5 minutes after Namorodo is defeated or despawns.
Susceptible to Stun, Slow, Paralysis, Bind, Gravity, Silence, and Lullaby.
Black Magic: Capable of casting all spells available to a level 40 Black Mage.
Blood Saber: AoE HP Drain effect.
Horror Cloud: Single target Slow effect.
Black Cloud: AoE Darkness based magic damage with an additional Blindness effect.
Hell Slash: Single target physical damage.
In Australian Aboriginal folklore, the Namorodo was a creature described as being nothing more than bones covered by skin held in place by sinews. They would prey on humans, sucking out their insides in order to cause them to become a Namorodo as well.
This page last modified 2010-06-16 15:17:09.