Family:
Ram
Found in:
Lufaise Meadows

Found at Location:
K - 6
Spawned using:
Relic Shield
Job:
Paladin
Secondary Job:
White Mage
Level:
0
Flags:

Notorious Monster
Aggro
Linking
Truesight
Based on Earth
Strong against Ice

Drops:
Updated: Mon Feb 16 00:43:14 2009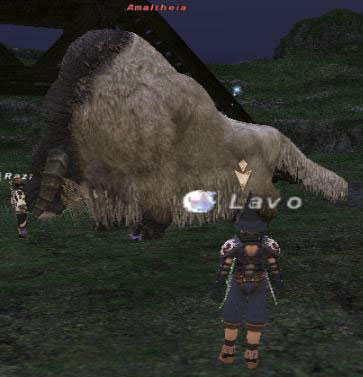 The Relic Shield used will be lost upon trading.

Amaltheia's ??? Location
Because of this, it is recommended to pull Amaltheia as far away from where the Tavnazian Rams spawn, so that it takes more time for them to reach Amaltheia.
Immune to Paralyze, Slow, Elegy, Stun, and Blind, though susceptible to Gravity and Sleep.
Immune to all DoT spells.
Cure V: Single target large HP recovery.
Banishga III: Strong AoE Light based magic damage (Circle of effect originates from spell target).
Banish IV: Strong single target Light based magic damage.
Holy: Strong single target Light based magic daamge.
Amaltheia will randomly cast this Holy on any target within range, regardless of how much hate they've accumulated.
Great Bleat: AoE Maximum HP Down effect (Circle of effect originates from mob).
Rage: Self target Attack bonus and Defense down effect (Effect can be dispelled).
Ram Charge: Single target physical damage with an additional Knockback effect.
Rumble: AoE Evasion down effect (circle of effect originates from mob).
Petribreath: Frontal cone AoE Petrification effect.
In Greek mythology, Amaltheia was a divine goat that the infant Zeus suckled from when he was sent to the isle of Crete. It was the horn of Amaltheia that served as the Cornucopia, which would never run out of food regardless of how much was taken from it, and it was the goat's hide that was used to coat Athena's shield, Aegis (see Aegis).
This page last modified 2009-02-15 17:11:14.