Family:
Demon
Found in:
Qu'Bia Arena

Job:
Dark Knight
Level:
0
Flags:

Quest Notorious Monster
Aggro
Truesight
Based on Dark
Weak against Light

Updated: Thu Apr 22 20:55:48 2010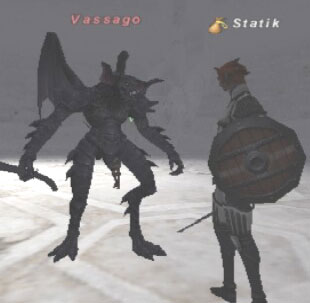 Susceptible to Stun, Paralysis, and Slow.
Will tend to target your adventuring fellow over you, though strong weaponskills or other enmity generating abilities can cause it to target you.
Dark Knight Spells - Vassago is capable of casting all spells available to a level 50 Dark Knight
Hecatomb Wave - Frontal cone AoE Wind based magic damage with an additional Blind effect.
Soul Drain - Single target HP Drain effect.
Demonic Howl - AoE Slow effect (Circle of effect originates from mob).
Blighted Gloom - Single target Darkness based magic damage.
Denoted by the characteristic mob two-hour animation, though there is a delay between the animation and the actual ability being used.
If Blighted Gloom is targetting your adventuring fellow he/she will take no damage, instead countering with the ability Blessed Radiance.
In Christian Demonology, Vassago was a formless demon that held the rank of Prince of Hell, which resulted in him commanding 26 legions of demons. He was said to be a generally benevolent demon, with absolute knowledge of the past and of the future, and was able to find anything hidden or lost.
This page last modified 2010-04-22 16:21:53.