Family:
Troll
Found in:
Al Zahbi

Job:
Monk
Level:
0
Flags:

High Notorious Monster
Aggro
Truesight
Appears during Besieged
Based on Fire
Weak against Water

Updated: Tue Jun 2 06:49:15 2009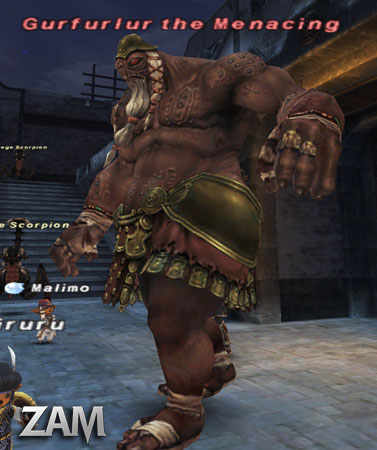 Timed spawn behind a three-key door around the (K-11) area on the second map of Halvung.
The Woodtroll and Hilltroll Elite Guards do not share hate with Gurfurlur the Menacing and can be pulled away from him.
Gurfurlur will recall them almost immediately if they are killed.
Appears to be weak to Blunt damage.
Grants Title: Troll Subjugator
Haymaker - Frontal cone AoE physical damage with an additional Amnesia effect.
Arcane Stomp - Self target Magic Damage absorption effect. (Effect cannot be dispelled).
Any magic damage dealt to Gurfurlur while Arcane Stomp's effect is active will heal Gurfurlur rather than deal damage to him.
Head Snatch - Single target physical damage that reduces target's HP to roughly 10%
Incessant Fists - Single target five-hit physical damage.
Sledgehammer - Frontal cone AoE physical damage with an additional Petrification effect.
Pleiades Ray - AoE Magic damage with additional Paralysis, Blind, Poison, Plague, Slow, Bind, and Silence effects.
Gurfurlur will not start performing Pleiades Ray until his HP drops to roughly 20%.
Hundred Fists - Self target Attack speed increase (Effect cannot be dispelled).
Denoted by the characteristic mob two-hour animation.
This page last modified 2010-02-08 00:38:53.