Family:
Ghost
Found in:
Korroloka Tunnel

Job:
Black Mage
Level:
0
Flags:

Notorious Monster
Not Aggro
Not Linking
Based on Ice
Weak against Fire
Weak against Light
Strong against Darkness
Strong against Ice

Drops:
Updated: Wed Feb 18 00:35:27 2009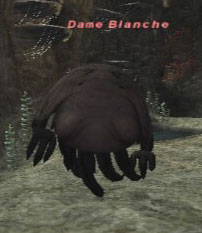 Lottery spawn from the Bogy in the areas of (G-9)-(J-9) and (G-10)-(I-10)
Aggressive to sound and low hp
Drops between 3,600-5,500 gil
Guaranteed drops: Sarcenet Cloth (100% chance of at least one cloth dropping)
Terror Touch: Single target physical damage with additional Attack down effect.
Ectosmash: Single target physical damage. Mob will "teleport" from its current position to a position beside or behind the target, strike at the target, then "teleport" back to its initial position.
Fear Touch: Single target physical damage with additional Slow effect.
Grave Reel: AoE Drain magic effect.
Dark Sphere: Single target Dark magic damage with additional Blind effect.
Black Mage Spells: Able to cast any spell that a level 37-39 Black Mage has.
In French and Norman legends, the Dame Blanche (French for "White Lady") were said to be ghosts of women that roamed along ravines, bridges, and streams in the woods. Though sometimes benign (simply demanding a dance from anyone that would come across them), the Dame Blanche were also said to sometimes lead people into forests to get lost, or even throw them into ravines bristling with thorny plants.
This page last modified 2008-03-16 23:27:30.