Family:
Yagudo
Found in:
Castle Oztroja (S)

Found at Location:
I - 7
Job:
Monk
Level:
80 - 84
Flags:

Notorious Monster
Aggro
Linking
Truesight
Based on Wind
Weak against Ice

Drops:
Updated: Thu Jun 26 09:14:34 2008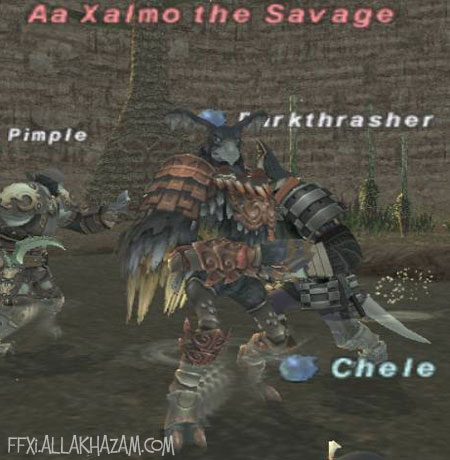 Respawn time is approximately 2 to 6 hours after its last Time of Death.
Susceptible to Bind, Gravity, Paralysis, Slow, and Stun.
Dark Invocation - Single target Darkness based magic damage with an additional Doom effect.
Double Kick - Single target two-hit physical damage with an additional Stun effect.
Feather Storm - Single target physical damage with an additional Poison effect.
Feathered Furore - Single target single gear removal effect.
Parry - Self target Defense boost effect (Effect can be dispelled).
Sweep - AoE physical damage with an additional Stun effect (Circle of effect originates from mob).
Hundred Fists - Self target potent Attack speed boost effect.
Denoted by the characteristic mob two-hour animation.
Believed to be the predecessor to the Monk Artifact Armor quest Notorious Monster Huu Xalmo the Savage.
This page last modified 2010-05-17 17:50:40.