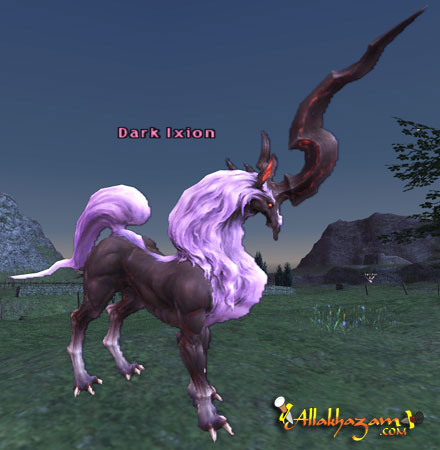 Will randomly roam through these zones except for ones where a Campaign battle is occuring, in which case it will avoid that zone until the Campaign battle is over.
In order to claim Dark Ixion, it must be hit by a throwable ammunition known as the Stygian Ash, which is dropped from Sprites and Pixies.
Any attempt to claim Dark Ixion without the Stygian Ash will cause it to run away from the player at high speed, most often fleeing to one of the neighboring zones.
Immune to Sleep, Lullaby, and Stun. Resistant to Slow and Elegy, though stacking both with Elemental Seal will cause them to stick.
Dark Ixion has no visible Health Points bar at the start of the fight, but its HP bar will appear if the horn on its head is broken off.
Will take significantly lower damage from attacks head on and will take more damage from attacks directed from the side or behind it.
Grants title: Ixion Hornbreaker
Rampant Stance: Aoe physical damage with additional Stun, Gravity, or Aspir effects.
Acheron Kick: Strong conal AoE physical damage.
Dark Ixion will most often use this when hate is drawn on him from behind, but will use it on the tanks in your group by turning around.
Horn Charge: Dark Ixion's horn will briefly glow, indicating that it will use one of the following two attacks.
Wrath of Zeus: Strong AoE Lightning based magic damage with an additional Silence effect.
Lightning Spear: Strong AoE Lightning based magic damage with an additional Amnesia effect.
Damsel Memento: Self target HP recovery effect.
Unknown: At random intervals, Dark Ixion will lower its head so that its horn is parallel to the ground and will charge randomly towards anyone in the group that has hate, and will inflict strong physical damage to anyone in its path. Moving to either side as it charges will allow
While there is no message in the chat log for this "attack", Dark Ixion will kick up a cloud of dust at its feet prior to using it.
In Greek mythology, Ixion was the king of Lapiths and the son of the god Ares. Ixion married Dia, and promised her father Deioneus a gift for allowing him to marry his daughter. However, because he was never given that gift, Deioneus stole some of Ixion's horses, to which Ixion retaliated by pushing him into a bed of fiery coals, thus marking Ixion as the first man in Greek mythology guilty of the sin of kin-killing.
However, Zeus took pity on Ixion and brought him up to Mount Olympus, only to have him begin to make advances towards Zeus's wife, Hera. After tricking him into coupling with a cloud sculpted in Hera's image, which resulted in the birth of the first of the Centaurs, Ixion was struck by one of Zeus's thunderbolts and cursed to spend the rest of eternity strapped to an ever spinning fiery chariot wheel.
This page last modified 2009-05-14 14:12:18.