Family:
Qiqirn
Found in:
Alzadaal Undersea Ruins

Found at Location:
F - 8
Spawned using:
Rodent Cheese
Job:
Thief
Level:
0
Flags:

Notorious Monster
Aggro
Linking
Detects by Sight
Based on Earth

Drops:
Updated: Tue Jun 17 11:17:44 2008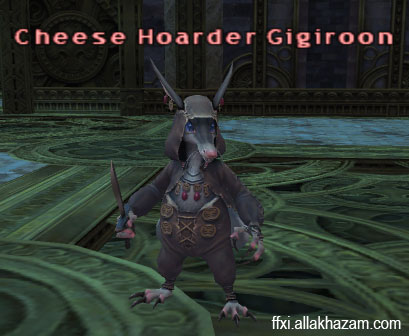 The respawn time on the ??? is three minutes after Cheese Hoarder Gigiroon is defeated or despawns.
Will randomly flee from battle, dropping Qiqirn Mines behind it.
Will either drop a single Mine that deals 500 points of damage to all targets within range, or a string of five Mines that each deal 100 points of damage to all targets within range.
Immune to Bind, Gravity, and Sleep. Susceptible to Stun, Slow, and Paralysis.
Faze - Single target Gaze Terror effect.
Deadeye - AoE Defense and Magic Defense Down effects (Circle of effect originates from mob).
Kibosh - Single target Amnesia effect.
Sandspray - Frontal cone AoE Blind effect.
Strap Cutter - Single target Encumberance effect.
Strap Cutter can remove multiple pieces of equipment at a time.
This page last modified 2010-02-23 02:24:20.