Family:
Marid
Found in:
Wajaom Woodlands

Found at Location:
J - 8
Spawned using:
Senorita Pamama
Level:
0
Flags:

Notorious Monster
Aggro
Not Linking
Detects by Sight
Based on Earth

Drops:
Updated: Sat Jul 19 17:31:21 2008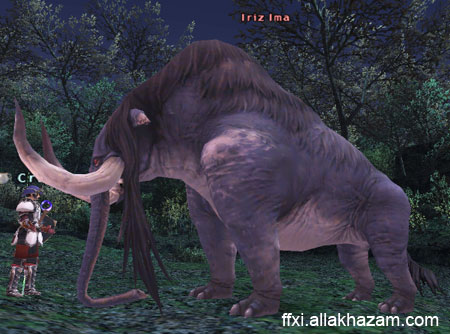 Unlike normal Marid types, Iriz Ima will not spawn Chigoes after performing a TP move.
Will not link with the Marids that appear in the area, but can link with the Grand Marid should it be up.
Onrush: Single target physical damage.
Iriz Ima tends to use this ability more often than other TP moves.
Barrier Tusk: Self target Defense and Magic Defense boost. (Effect cannot be dispelled).
Flailing Trunk: Strong frontal cone AoE physical damage.
Stampede: Strong single target physical damage.
Proboscis Shower: Self target HP recovery effect.
Voracious Trunk: Single target status effect absorption. (Cannot absorb Food or Two-Hour effects)
This page last modified 2009-06-16 23:35:47.