Family:
Sapling
Found in:
Konschtat Highlands

Found at Location:
J - 11
Level:
15 - 16
Flags:

Notorious Monster
Based on Earth
Weak against Darkness
Weak against Fire
Strong against Light

Drops:
Updated: Mon Nov 30 22:33:15 2009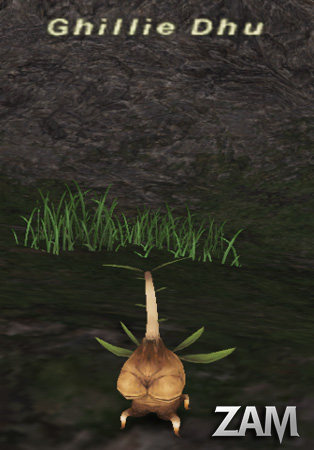 Respawn time is approximately 90 to 100 minutes after its last Time of Death.
Immune to Bind, Gravity, and Sleep. Susceptible to Stun, Paralysis, and Slow.
Physical attacks have an additional TP Drain effect that cannot be dispelled.
Sprout Spin - AoE physical damage with an additional Knockback effect (Circle of effect originates from mob).
Ghillie Dhu will begin to use Sprout Spin more frequently as its HP decreases.
In Scottish folklore, the Ghillie Dhu (also known as Gille Dubh) is a wild but shy guardian spirit of the trees (most fondly the birch tree). He is described as being a dark haired boy with leaves and moss as clothing, and is generally kind towards children.
This page last modified 2010-04-12 14:40:37.