Family:
Coeurl
Found in:
The Sanctuary of Zi'tah

Job:
Black Mage
Level:
0
Flags:

Notorious Monster
Aggro
Detects by Sight
Based on Lightning
Weak against Earth

Drops:
Stolen Items:
Updated: Wed Dec 2 21:42:00 2009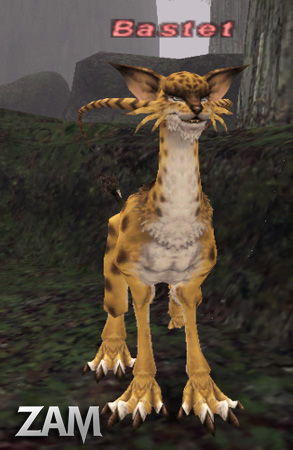 Bastet's Spawn Locations
Immune to Bind, Gravity, and Sleep. Susceptible to Slow, Paralysis, Elegy, and Stun.
Runs with enhanced movement speed.
Bastet's spells cannot be interrupted by normal melee attacks.
Burst - Strong single target Thunder based magic damage.
Shock - Single target Thunder based DoT with an additional Mind down effect.
Shock Spikes - Self target Thunder based spikes damage effect with an additional Stun effect (Effect can be dispelled).
Stun - Single target stun effect.
Thundaga II - AoE Thunder based magic damage (Circle of effect originates from spell target).
Thunder II - Single target Thunder based magic damage.
Bastet is the name commonly used by scholars today to refer to a feline goddess of Egyptian mythology who was worshipped at least since the Second Dynasty. Her name is also spelled Bast, Ubasti and Baset. Her role in the pantheon became diminished as Sekhmet, a similar lioness war deity, became more dominant in the unified culture of Lower and Upper Egypt. In the first millennium BC, when domesticated cats were popularly kept as pets, Bastet began to be represented as a woman with the head of a cat and ultimately emerged as the Egyptian cat-goddess per excellence. In the Middle Kingdom, the domestic cat appeared as Bastet's sacred animal and after the New Kingdom she was depicted as a woman with the head of a cat or a lioness, carrying a sacred rattle and a box or basket.
This page last modified 2012-09-13 18:01:42.