Family:
Funguar
Found in:
West Ronfaure

Job:
Warrior
Level:
0
Flags:

Notorious Monster
Based on Dark
Weak against Light
Strong against Darkness
Strong against Water

Drops:
Updated: Sat Jun 12 15:29:59 2010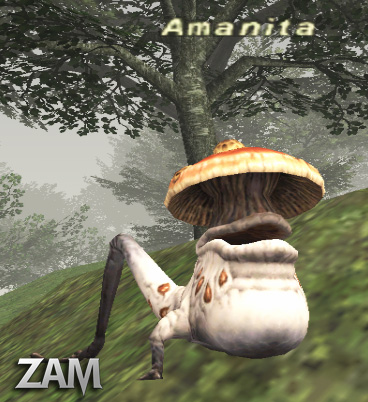 Respawn time is 60 to 70 minutes after its last Time of Death.
Immune to Bind, Gravity, and Sleep. Susceptible to Stun, Slow, and Paralysis.
Spore: Single target Paralysis effect.
Dark Spore: Frontal cone AoE Darkness based magic damage with additional Blind effect.
Frog Kick: Single target physical damage.
Queasyshroom: Single target physical damage with an additional Poison effect.
Silence Gas: Frontal cone AoE magic damage with an additional Silence effect.
Numbshroom: Single target physical damage with an additional Paralysis effect.
Shakeshroom: Single target physical damage with an additional Disease effect.
The genus Amanita contains about 600 species of agarics including some of the most toxic known mushrooms found worldwide. This genus is responsible for approximately 95% of the fatalities resulting from mushroom poisoning, with the death cap accounting for about 50% on its own. The most potent toxin present in these mushrooms is α-amanitin. The genus also contains many edible mushrooms, but mycologists generally discourage amateur mushroom hunters from selecting these for human consumption.
This page last modified 2010-06-12 10:21:01.