Family:
Pugil
Found in:
Qufim Island

Job:
Warrior
Level:
0
Flags:

Notorious Monster
Not Aggro
Linking
Based on Water
Weak against Ice
Weak against Lightning
Strong against Water

Drops:
Updated: Sat May 29 04:31:15 2010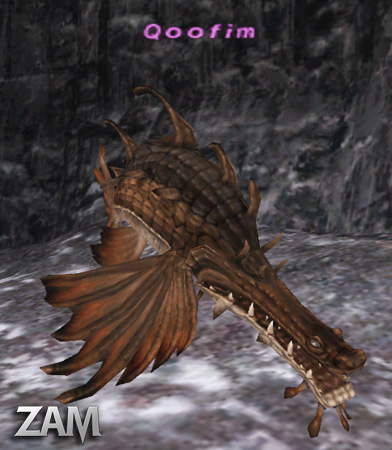 Respawn time is approximately two hours after its last Time of Death.
Has an innate En-Water effect that cannot be dispelled.
Immune to Bind, Gravity, and Sleep. Susceptible to Paralysis and Slow. Susceptible to Stun, but builds a resistance over time.
Aqua Ball - AoE Water based magic damage with an additional Strength Down effect (Circle of effect originates from ability target).
Splash Breath - Frontal cone AoE Water based magic damage.
This page last modified 2010-05-28 23:30:35.