Family:
Ghost
Found in:
Fei'Yin

Level:
0
Flags:

Notorious Monster
Detects by Sight
Detects by Sound
Based on Ice
Weak against Fire
Weak against Light
Strong against Darkness
Strong against Ice

Drops:
Updated: Sun Feb 7 00:24:34 2010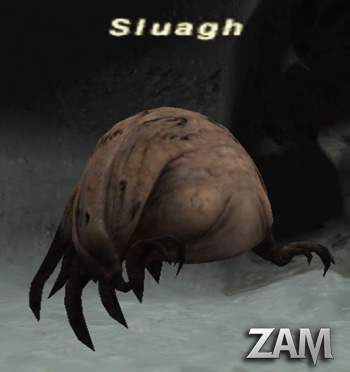 Timed spawn around the areas of (F-10)/(F-11), (G-9), (H-8), (I-8)/(J-8) on the first map of Fei'yin or (G-6), (F-8) on the second map.
Immune to Sleep, Bind, and Gravity. Susceptible to Stun, Slow, and Elegy.
Grave Reel - AoE HP Drain effect (Circle of effect originates from mob).
In Irish and Scottish folklore, the Sluagh were the spirits of sinners or generally evil people who weren't allowed into Heaven or Hell and rejected by deities and the very earth itself.
They would often travel amongst flocks of birds coming from the west, and would attempt to enter the homes of dying individuals in order to steal their soul. Because of this practice, houses with windows facing the west were often shut to keep the Sluagh out.
This page last modified 2010-02-06 18:23:55.