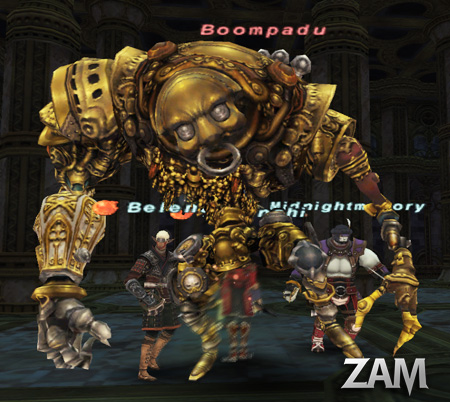 Respawn time is approximately 120 to 150 minutes after its last Time of Death.
Physical attacks have an additional En-Thunder effect that cannot be dispelled.
Weak to Water based magic damage, but highly resistant to physical and magical damage aimed towards Boompadu's larger arm.
Moves at slower than normal movement speed and will frequently de-aggro if kited around.
Will begin to use TP moves more frequently as its HP lowers.
Immune to Bind, Gravity, and Sleep. Susceptible to Paralysis, Slow, and Stun.
Dire Straight - Single target physical damage. Ignores Blink and Utsusemi.
Earthshatter - AoE physical damage (Circle of effect originates from mob).
This page last modified 2010-05-08 16:18:16.