Family:
Dhalmel
Found in:
Eastern Altepa Desert

Found at Location:
F - 8
Level:
35 - 36
Flags:

Notorious Monster
Aggro
Linking
Detects by Sight
Based on Earth
Weak against Lightning
Weak against Wind

Drops:
Updated: Sun Mar 7 12:53:24 2010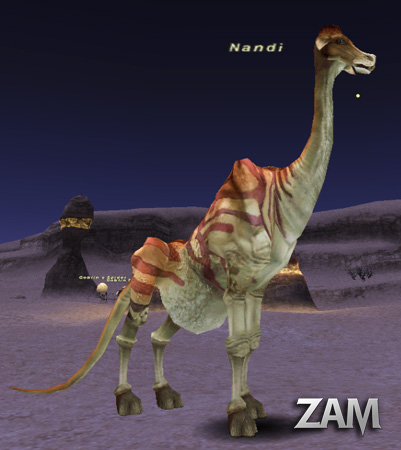 Respawn is approximately two hours after its last Time of Death.
Physical attacks have an additional Slow effect that cannot be dispelled.
Immune to Slow, Elegy, Sleep, Gravity, and Bind. Susceptible to Paralysis.
Nandi's Special Attacks
Healing Breeze - AoE HP recovery effect (Circle of effect originates from mob).
Nandi will use this TP move exclusively, and will use it more frequently the lower its HP is.
In Hindu mythology, Nandi was a sacred white bull that served many functions to the god Siva (see Shiva), including his mount, a gatekeeper to Siva's dwelling, a chief of the Ganas (Siva's army), and his foremost disciple of Saivism.
This page last modified 2010-03-05 06:32:54.