Family:
Bomb
Found in:
Ordelle's Caves

Job:
Black Mage
Level:
0
Flags:

Notorious Monster
Detects by Sight
Detects by Magic
Based on Fire
Weak against Fire

Drops:
Updated: Sun Jun 13 03:33:34 2010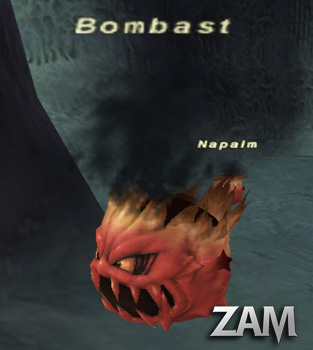 Respawn time is approximately 90 minutes after its last Time of Death.
Has an innate Blaze Spikes effect that cannot be dispelled.
Immune to Bind, Gravity, Sleep, and Silence. Susceptible to Stun, Slow, and Paralysis.
Burn - Single target Fire based DoT with an additional Intelligence Down effect.
The word bombast is defined as a grandiloquent, pompous speech or writing, and is also an obsolete term used for cotton padding.
This page last modified 2010-06-12 22:32:37.