Family:
Golem
Found in:
The Sanctuary of Zi'tah

Level:
0
Flags:

Notorious Monster
Based on Light
Weak against Lightning

Drops:
Updated: Fri Feb 19 05:25:44 2010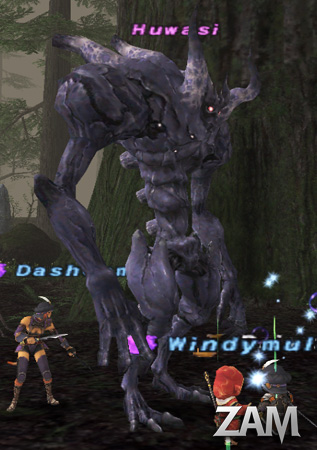 Timed spawn around the areas of (F-9), (H-8), (H-11) and any other locations that the mob Rock Golem can spawn.
Respawn time is approximately two hours after its last Time of Death.
Immune to Bind, Gravity, and Sleep. Susceptible to Paralysis, Slow, and Stun.
Crystal Rain - AoE Magic damage (Circle of effect originates from mob).
Huwasi will begin to use Crystal Rain more frequently as its HP decreases.
In Hittite religion, a huwasi stone is sacred to a deity and is usually situated in a temple. Larger huwasi stones were placed in an open area surrounded by trees and other plants. The stones were treated as gods; they were given food and water, anointed, and washed. At any cult center, the deities who couldn't be given a temple were worshipped at huwasi stones. The term huwasi was used to describe the housing of the sacred stela, the huwasi stone.
This page last modified 2010-04-11 15:33:59.