Family:
Goblin
Found in:
Outer Horutoto Ruins

Job:
Warrior
Level:
0
Flags:

Notorious Monster
Aggro
Weak against Light

Drops:
Updated: Sat Jun 19 02:29:15 2010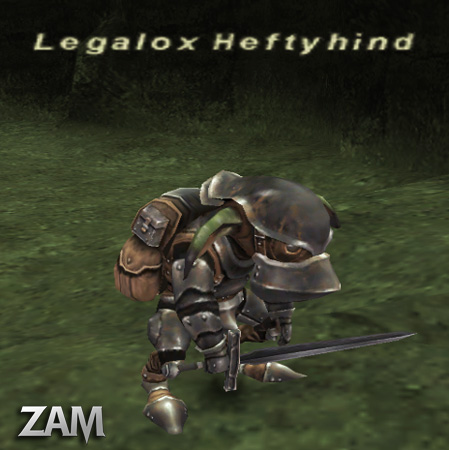 Respawn time is approximately 60 to 90 minutes after its last Time of Death.
Spawns with innate Stoneskin effect that cannot be dispelled. In additional, melee attacks have an additional Slow effect that cannot be dispelled.
Possesses the Double Attack job trait.
Legalox Heftyhind's Double Attack trait is very potent, proc'ing nearly 100% of the time.
Immune to Bind, Gravity, and Sleep. Susceptible to Stun, Slow, and Paralysis.
Bomb Toss - AoE Fire based magic damage (Circle of effect originates from attack target).
Goblin Rush - Single target three-hit physical damage.
This page last modified 2010-06-03 20:54:00.