Family:
Leech
Found in:
Qufim Island

Level:
0
Flags:

Notorious Monster
Aggro
Linking
Detects by Sound
Based on Water
Weak against Light
Strong against Water

Drops:
Involved in Quests:
Updated: Thu Oct 25 23:04:36 2012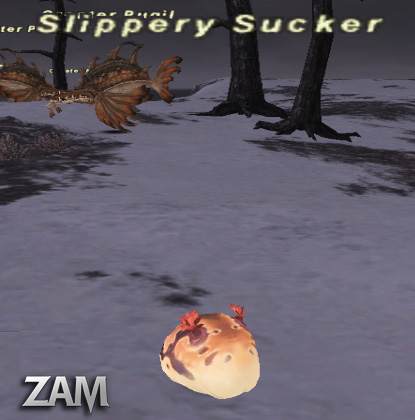 Respawn time is approximately 1 to 2 hours after its last Time of Death.
Physical attacks have an additional Stun effect that cannot be dispelled.
Immune to Bind, Gravity, and Sleep. Susceptible to Stun, Slow, and Paralysis.
Acid Mist: AoE Attack Down effect. (Circle of effect originates from mob).
Regeneration: Self target Regen effect. (Effect can be dispelled).
Suction: Single target physical damage with additional Stun effect.
TP Drainkiss: Single target TP absorption effect.
Drainkiss: Single target HP absorption effect.
Sand Breath: Frontal cone AoE Earth based magic damage with additional Blind effect.
MP Drainkiss: Single target MP absorption effect.
Brain Drain: Single target Dark based magic damage with additional Intelligence down effect.
This page last modified 2010-05-01 04:26:04.