Family:
Mandragora
Found in:
Abyssea-Misareaux

Spawned using:
Worm-eaten Bud
Job:
Monk
Level:
0
Flags:

Notorious Monster
Aggro
Detects by True Sound
Based on Earth
Weak against Darkness
Weak against Fire
Weak against Ice
Weak against Lightning
Weak against Wind
Strong against Light

Drops:
Updated: Tue Mar 8 02:19:14 2011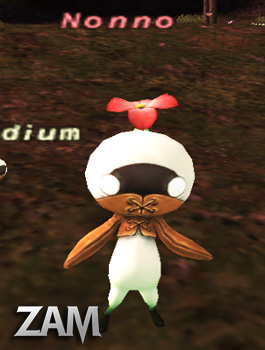 Respawn time on the ?? is approximately three minutes after Nonno is defeated or despawns.
Possesses an extremely high attack speed.
Immune to Bind, Gravity, and Sleep. Susceptible to Stun, Slow, and Paralysis.
This Atma is only a guaranteed drop if red exclamation points are proc'd one time against Nonno.
Dream Flower - AoE Sleep effect (Circle of effect originates from mob)
Unlike a normal sleep effect, damage inflicted to a target while slept with Nonno's Dream Flower might be insufficient in waking the target.
Head Butt - Strong single target physical damage with an additional Stun effect.
Nonno's Head Butt ignores shadows (Utsusemi or Blink)
Scream - AoE Terror effect (Circle of effect originates from mob).
For a brief time following Scream, Nonno will possess an aura that inflicts Slow and/or Addle on any targets within its vicinity.
This page last modified 2010-10-29 02:51:50.