Family:
Triple Bats
Found in:
Rolanberry Fields

Job:
Warrior
Level:
26 - 27
Flags:

Notorious Monster
Not Aggro
Linking
Appears at Night
Detects by Sound
Based on Wind
Weak against Light
Weak against Wind
Strong against Darkness

Drops:
Involved in Quests:
Updated: Thu Aug 18 04:37:28 2011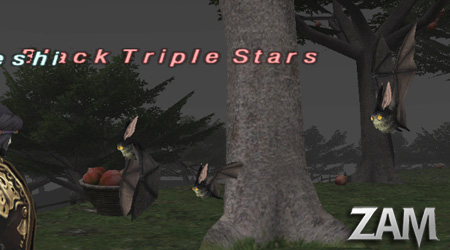 Because Midnight Wings can only spawn between the hours of 18:00 and 6:00, Black Triple Stars can only spawn during this window as well.
Susceptible to Bind, Gravity, Slow, Stun, and Paralysis.
Jet Stream - Single target three-hit physical damage.
Sonic Boom - AoE Attack Down effect (Circle of effect originates from mob).
This page last modified 2010-05-21 00:51:45.