Family:
Quadav
Found in:
Beadeaux

Job:
Red Mage
Level:
47 - 48
Flags:

Notorious Monster
Aggro
Linking
Detects by Sound
Based on Water
Weak against Lightning
Strong against Water

Drops:
Updated: Fri Dec 28 16:26:12 2007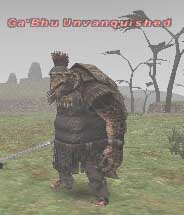 NM is a lottery spawn from the Emerald Quadav at J-5 and J-6.
Spawn window is believed to open one hour following the ToD.
The Dual Rapier is a 100 percent drop.
This page last modified 2010-04-24 00:34:04.