Family:
Lizard
Found in:
Kuftal Tunnel

Level:
66
Flags:

Notorious Monster
Not Aggro
Linking
Detects by Sound
Based on Fire
Weak against Ice
Weak against Wind

Drops:
Stolen Items:
Updated: Tue Jul 7 03:59:22 2009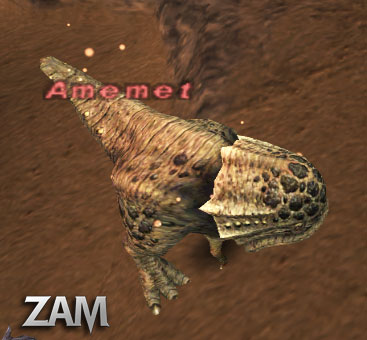 Lottery spawn from the Sand Lizards in the four squares of (I-9), (I-10), (J-9), and (J-10). Will roam around the area from (F-6) to (J-10) in a fairly random path.

Amemet's Spawn Location
Guaranteed drops: Amemet Skin (100% chance of at least one skin dropping).
Will drop roughly 6,000 gil.
Brain Crush: Single target physical damage with additional Silence effect.
Secretion: Self target Evasion boost. (Effect can be dispelled)
Blockhead: Single target physical damage with additional Knockback effect.
Fireball: AoE Fire based magic damage.
Baleful Gaze: Single target gaze Petrification effect. (effect can be evaded by facing away from Amemet)
Tail Blow: Single target physical damage with additional Stun effect.
Plague Breath: Frontal cone AoE Water magic damage with additional Poison effect.
Infrasonics: Frontal cone AoE Evasion down effect.
In Egyptian mythology, Amemet served as a personification of divine retribution for all the wrongs one had committed in life. Dwelling in the Hall of Ma'at, Amemet lived near the Scales of Justice, which were used by the god Anubis to weigh the hearts of the dead against the Feather of Ma'at to determine the person's eventual fate. Should a heart weigh heavier than the feather (thus proving they were sinful), it was given to Amemet to devour, preventing their souls from traveling to the heavenly paradise of the Fields of Aaru.
This page last modified 2009-07-06 20:58:09.