Family:
Hecteyes
Found in:
Maze of Shakhrami

Found at Location:
K - 8
Spawntime:
18 to 30 Hours
Job:
Black Mage
Level:
36 - 37
Flags:

Notorious Monster
Aggro
Not Linking
Detects by Sound
Based on Dark

Drops:
Updated: Fri Aug 27 02:57:23 2010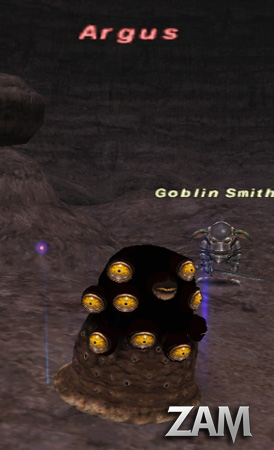 Argus's Spawn Location
Shares a spawn timer with the notorious monster Leech King between 18-30 hours from the last ToD for either Argus or Leech King.
Beginning eighteen hours after their ToD, sixty second windows with intervals of thirty minutes will open. If neither notorious monster spawns during a window, the next one will begin thirty minutes after the start of the previous window.
Immune to Sleep, though susceptible to Lullaby.
Black Magic - Capable of casting all Black Magic available to a level 38 Black Mage
For elemental magic, Argus tends to favor Fire based spells.
Hex Eye- Frontal cone AoE gaze Paralysis effect.
Death Ray - Single target Darkness based magic damage.
Catharsis - Self target HP recovery effect.
In Greek mythology, Argus was a one hundred eyed giant ordered to guard the nymph Io (in the guise of a white cow) by Hera from Zeus. In order to re-claim Io, Zeus sends the god Hermes to slay Argus. In order to bypass the giant's tendency to always keep at least one eye open, the messenger god posed as a shephard and recited boring stories to Argus until each eye fell asleep before killing him. In honor of his service, Hera emblazened Argus's eyes on the tail feathers of the peacock.
This page last modified 2010-08-26 22:00:25.