Mavi Tayt +1
[
Legs
] All Races
Lv.83
BLU
Increases the TP bonus effect from Efflux by an additional 100% TP, thus giving the effect of 200% TP on the spell it is paired with.
The Mavi Tayt+1 must remain equipped following the activation of Efflux to gain the effect for the spell.
This page last modified 2010-11-12 20:47:54.
Submit a correction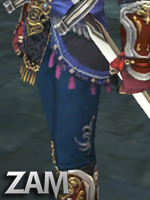 Used in Quests:Gained from Quests: