Mavi Tayt +2
[
Legs
] All Races
Lv.83
BLU
Increases the TP bonus effect from Efflux by an additional 200% TP, thus giving the effect of 300% TP on the spell it is paired with.
The Mavi Tayt+2 must remain equipped following the activation of Efflux to gain the effect for the spell.
Blue Magic Spells (physical or magic) will occasionally deal double damage.
This page last modified 2012-02-09 16:45:50.
Submit a correction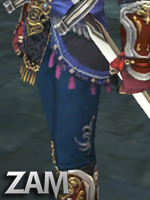 Gained from Quests: