Exterminate bats from King Ranperre's Tomb, and bring back proof of your deeds.
Here's a short version for the impatient/lacking in attention span. A great, detailed version you really should read follows; consider this an outline.
For initial 1-2:
Go to H-11 in East East Ronfaure.
Make your way through the underground tunnel to the mazey bit
Once in the bit in 'maze' kill Ding Bats until you get Orcish Mail Scales
Make sure you get to, click on, and see the cutscene at the tombstone
For repeat of 1-2:
Go to H-11 in East East Ronfaure.
Kill Mouse Bats and collect Bat Fangs
Turn in bat fangs one at a time
The Gate Guard tells you about the King's Tomb and that there are reports it's been tampered with. You're sent to go and check it out and bring back evidence if it has.
The Tomb is at (H-11) in Ronfaure East... very south of the map.
A Level 5 character can take this quest by the horns and with some luck kill a Ding Bat in the second upper level section of the Tomb Zone... but will have to be very careful... or just follow others around the zone. There's always someone in there cleaning out the creatures for exp or whatnot. In part 2 there are 2 mazes one leads to something for a later quest... and one leads to a headstone. You'll want to approach the headstone and see the cut scene about 'Ron-boy' who speaks to the headstone like the king yet lived.
IF you don't see the cut scene you haven't 'completed' the mission even if you have 90 pieces of Orcish Chain Scales. After the cut scene slip back out and back to the Gate Guard.
If you decide to redo this mission you kill the Mouse Bats in the first underground section for their bat fangs. Which you can only turn in one at a time. For a Level 8 Red Mage turning in 6 bat fangs netted a full "rank 1 points" meter but did not grant rank 2. Perhaps more are needed.
Head to East Ronfaure.
Head to (H-11)
Enter zone and thus The First Upper Level Section (and maze).
Bad Guys:
The Maze is basially 'Y' shaped. Go left, right, right OR right, left, left to reach the entrance to the first underground section.
The First Underground Section is pretty straight forward.
Bad Guys:
Left is mostly Mouse Bats... until a T Junction... Right is a mix of Mouse Bats and some Goblin Thugs and Goblin Weavers... then the previously mentioned T junction. You could go around the donut all day if you like if you need Mouse Bats Fangs (second time through). The respawn rate's fairly decent... even with the place's popularity.
When you continue passed the T junction the first big area might have Stone Eaters. Be Warned about their stone casting. Both can hit you if you aren't careful. From there it's mostly bare tunnel (with ambient sounds for stepping in bat guano. bleah.) with pauses for bats... and some big areas where goblins might hang out. (Again assuming someone didn't wipe the place out before you got in.)
Follow the Stairs up to Upper Area 2.
Bad Guys:
This area's been known to just be crawling with Carrion Worms, and the occasional Ding Bat flotilla. There are a mess of Goblins that will of course help each other in a pinch.
There are 2 Mazes... the one right near you... leads to a flat surface with a "???" Click point that is Underground Area 2 for a Later level quest. If you find yourself in there... turn around. Also the other cave like entrance is probably a Goblin lair. Not your goal right now either.
In the opposite corner is the entrance to maze 2... (best way is head forward from the stairs to the wall in the distance... then head left all the way until you're almost at the corner then turn left and enter the opening in the wall) and at the heart of that mini labyrinth is the Headstone of the King... just walk up and double click it like an NPC and the cut scene will start.
You may now head back the way you came, leave the tomb zone and head back to San d'Oria. The Gate Guard will reward you with some rank points and you can now try Mission 1-3 (if you're say level 11).
Second Run through you can just follow the "donut". Bat Fangs are fairly rare drops from the Mouse bats. All wings can be turned in for money (details elsewhere)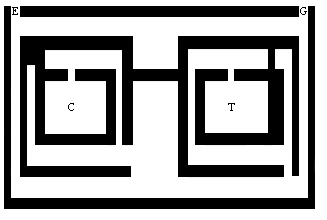 MAP DATA: Upper Level 2
E= Entry Point to this map
G= Goblin caves? "Mission 1-2" doesn't require.
C= Cave (of Death) "Mission 1-2" doesn't require.
T= Ranperre's Tomb. You must get here to get the cut scene to finish mission.
Only the turns are to scale. The distances are not. But are fairly close.
---
To read the transcripts for this quest, see the Bat Hunt Spoilers page.
---
This mission is part of the San d'Oria nation mission series. The complete series includes:
This page last modified 2008-08-08 20:01:22.