The Doll Festival is a solemn Far Eastern celebration in which displays of dolls and sweets are used to congratulate young girls on their growth.
The festival is supposed to be for young girls only, but the M.H.M.U. (Mog House Management Union) has been working with Windurst's Rhinostery to develop a special variety of rice cake that turns anyone who eats one into a little girl, ultimately allowing boys and girls of all sizes to participate in the festivities!
To make sure that everyone receives a piece of the magical cake, moogles down at the MHMU have been stuffing envelopes full of the tasty treats and sending them to every single Mog House in Vana'diel.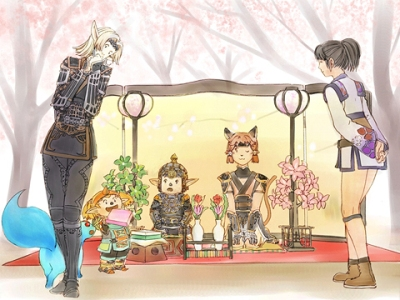 Rice cakes should start arriving in Mog House delivery boxes sometime on or around February 23. Not everyone's will arrive at the same time.
Only characters starting their adventures before 2/18/2007 will receive a cake.
If you return your cake to the MHMU, you will not be able to receive another one.
The following areas will be decked with Doll Festival decor from midnight on February 23, 2007 (PST) to midnight, March 4:
- Southern San d'Oria
- Northern San d'Oria
- Bastok Mines
- Bastok Markets
- Windurst Waters
- Windurst Woods

Illustration by Mitsuhiro Arita

This page last modified 2009-03-08 12:18:01.