Switchstix can upgrade degraded weapons if you bring him the things he wants.
The first upgrade will require:
Fee: One Hundred Byne Bill x4
The Ihintanto is a drop from Dynamis - San d'Oria. The Relic Steel is either crafted (97 Smithing skill) or bought with 24 Lungo-Nango Jadeshells from a Goblin NPC in Castle Oztroja. Trade all four items and currency to Switchstix and he will upgrade it to a Mimizuku. You will need to wait one game day.
The second upgrade will require:
Fee: Lungo-Nango Jadeshell x16
He will upgrade the Mimizuku to the Rogetsu. This will take about 1 week Earth time.
The third upgrade will require:
Fee: Montiont Silverpiece x61
The Attestation drops from the notorious monster Mildaunegeux in Dynamis - Beaucedine. Trade these two items to Switchstix and he will make upgrade it to the Yoshimitsu. The Yoshimitsu will allow you to use the special weapon skill Blade: Metsu, but only in Dynamis areas.
The fourth upgrade will require:
Fee: Ten Thousand Byne Bill x1
The Demoniac Fragment drops from the Animated Kunai in Dynamis - Xarcabard
Trade the Yoshimitsu, the fragment, the Necropsyche, and the currency to the blank space at (C-11) on the third map of Sea Serpent Grotto to receive a cutscene, your Kikoku, and 30 One Hundred Byne Bills.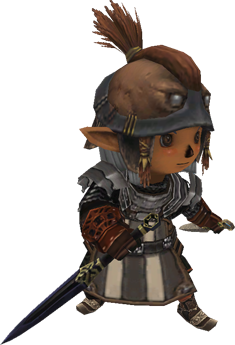 This page last modified 2009-03-25 00:25:06.