Switchstix can upgrade degraded weapons if you bring him the things he wants.
The first upgrade will require:
Fee: Lungo-Nango Jadeshell x5
The Relic Staff is a drop from Dynamis - Jeuno. Lancewood Lumber is crafted from Lancewood Logs which drop in Dynamis - Windurst or Dynamis - Beaucedine (99 Woodworking skill) or bought with 25 Lungo-Nango Jadeshells from an Goblin NPC in Castle Oztroja. Trade the four items and payment in Jadeshells to Switchstix and he will upgrade it to a Sage's Staff. You will need to wait one game day.
Switchstix says that beastmen enjoy the weapons we make and so wants you to bring him some of them so he can sell them to others.
The second upgrade will require:
Fee: One Hundred Byne Bill x16
Trade the four staves to Switchstix. He will upgrade the Sage's Staff to the Dynamis Staff. This will take about 1 week Earth time.
The third upgrade will require:
Fee: Montiont Silverpiece x62
The Attestation drops in Dynamis - Beaucedine. Trade the attestation, the Sage's Staff, and the currency to Switchstix to obtain the Thyrus. The Thyrus will allow you to use the special weapon skill Gate of Tartarus, but only in Dynamis areas. This will take exactly 82 hours after it's traded in.
The fourth upgrade will require:
Fee: Rimilala Stripeshell x1
The Celestial Fragment can be obtained from beating the Animated Staff in Dynamis - Xarcabard.
Trade your Thyrus, your fragment, your Necropsyche, and your currency to the crater in Ifrit's Cauldron to obtain a cutscene, your Claustrum, and 30 Lungo-Nango Jadeshells.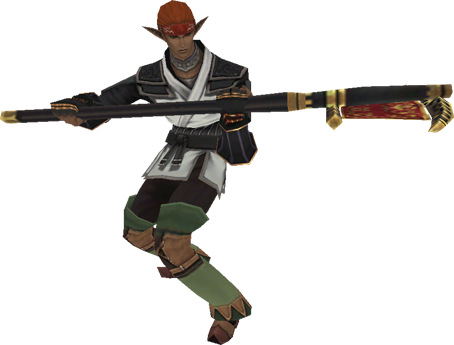 This page last modified 2009-03-25 00:09:44.