Description: An agent sent to spy on the secret training grounds of the Mamool Ja has been captured. Rescue him before he is interrogated for Imperial secrets.
Objective: Break through the locked doors to locate the Imperial Agent.
Starting at G-7 head towards the eastern part of the map where there are 6 rooms on the north and south side.
The idea is to get inside the rooms indicated on the map and check to see if there is an NPC inside. Checking the NPC unlocks the Rune of Release but the problem is the door is locked.
Various methods to open the door involve fighting a Mamool Ja with your back to the door. If the Mamool Ja is facing the door properly several of it's weapon skills, such as Firespit, and any WS that throws its weapon, should hit the door and force it open.
Once the door is open run inside and check the Pot Hatch to hopefully find Brujeel. If he's not there move onto another room.
Once you locate Brujeel head to (J-8) where the Rune of Release spawns.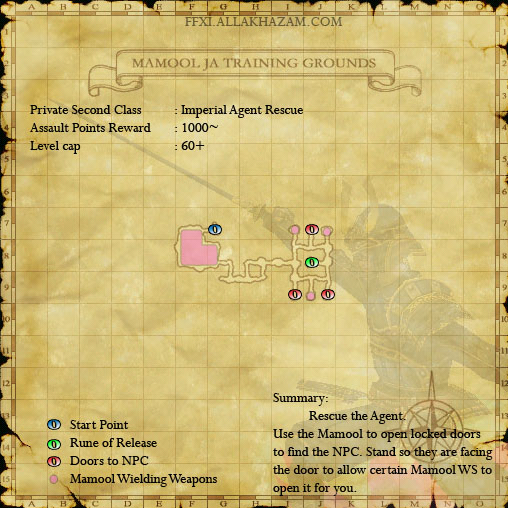 This page last modified 2008-01-16 13:04:09.