Imperial's choice for easy farming AP for this zone!!!
The objective is to kill all Mamool Ja to unlock the Rune of Release.
Puks are scattered on the lower floor and don't need to be killed.
The route I take is by starting off on top head towards the centre and pull surrounding Mamool Ja up to you. From here you should be able to fight the majority of Mamool Ja on the lower floor without needing to drop down.
Fight the BLU at G-8 and drop down to fight the NIN besides the slope. Go back up to fight the WHM and another NIN. Follow that path round to fight a BLU and then drop down and finish off any mobs on the lower level.
Once they are all dispatched you can pull the last mob which is a BLU down from I-8.
Of course the order of your kills is unimportant and a party of 3 or 4 should have no problem killing all Mamool Ja within the 30 minutes for this assault.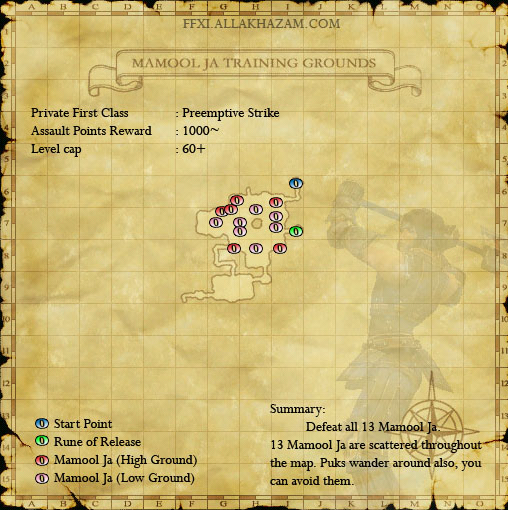 This page last modified 2008-01-16 13:06:23.