The Imperial Army plans to traverse Lebros Cavern as part of their attack on Halvung, however the tunnels are blocked with rocks. You must remove the obstructions.
Objective Remove the obstructions.
The objective of this assault is to destroy the 5 Brittle Rocks throughout the map. Along the way are bombs and Qiqirn.
The bombs do not need to be fought but fighting the Qiqirn may help as they drop temporary Qiqirn Mine items which destroy Brittle Rocks in one shot.
Starting at G-11 head north west past a bomb to the first Brittle Rock. There are several preferred methods of fighting the walls. Some prefer an all mage party, some prefer an all melee party. Whatever your setup have everyone attack the wall.
Brittle Rocks have extremely high defense, so high level magic isn't as useful here as low delay weapons or DoT spells such as Rasp, Bio and the like.
Once the first Brittle Rock has been defeated head north and take a right at the crossroads ahead. Here you'll find some Qiqirn. You can fight them if you like to try and get Qiqirn Mines.
From here there is one more wall at the far north and three more walls further east.
Once all Brittle Rocks are destroyed the Rune of Release spawns at F-10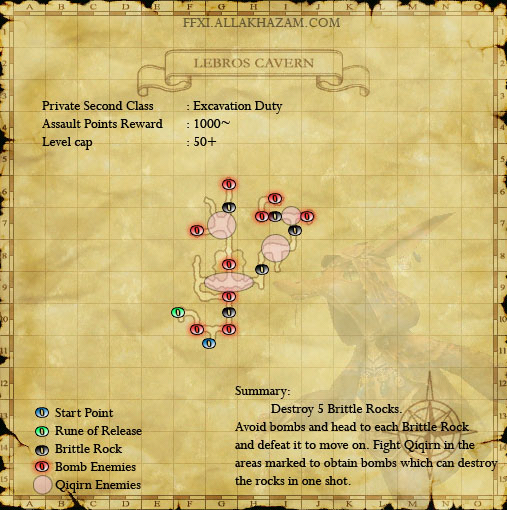 This page last modified 2008-01-15 04:26:40.