Description: Your mission is to hunt down Lamia No.13, a fearsome creature known to have performed vile experiments on the countless corpses of her enemies.
The objective is to defeat the Lamia NM, Lamia No. 13.
She will be wandering around the map with 3 fallen aiding her. When you confront her you are able to dispel the 'charm' effect the fallen are under and they will fight with you.
Lamia No.13 has all the regular Lamia moves including an AoE charm, 'Belly Dance' which will charm either all fallen in range, or all party members in range. Pets cannot be charmed and therefore are handy to use as tanks for the Lamia while keeping the fallen dispelled of any charm effects.
Be warned that once a fallen has been charmed, dispelling it while it is casting a spell will not stop the spell from casting. Because of this the fallen wizard (BLM) can sometimes be a problem.
Once Lamia No.13 is defeated the Rune of Release will spawn in the center of the map.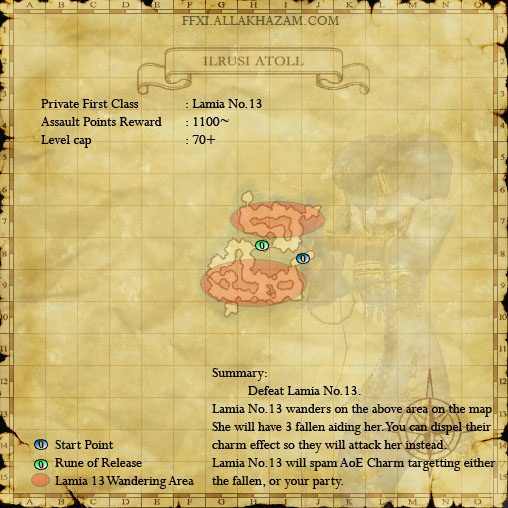 This page last modified 2009-03-09 12:05:23.