Because the old one was lame, and I wanted to tinker around on my fancy new computer, I decided to update my original thread (since it's kind of gibberish anyway, and I have gotten multiple PM's asking me to elaborate).
New and improved with fancy pants pictures.
Preface: This work around requires Firefox and the wonderfully delightful add-on Noscript. Anyone playing an MMO should be using this as their default browser if they use the internet at all on a PC with a MMO installed on it.
Firefox
Noscript
If you are unfamiliar with noscript, it basically blocks scripts from running on your computer from the internet so long as you have it set to "Forbid Scripts Globally." This of course is by no means fail safe, but it is a good thing to have installed to prevent your MMO account from getting hijacked and looted.
Make sure Firefox is set as your default browser since Playonline will open your internet browser when you get to a particular step in the process. If you already have Firefox open, it will simply open another tab.
1. Open the Playonline Viewer.
Rog and a few others have mentioned being able to do this with Windower but I have had no success. It results in a crashed Windower client, at least on my old computer.

2. Follow the steps to get to the payment screen. Either by starting a new account, through the LM-21 link screen, or by updating your payment method. After entering your Name, Address, Credit Card info etc, the next screen
after a screen explaining the terms of 3D Secure
that pops up will have a tab that will pop open a window in your web browser. You cannot progress past this step until you either enter a VbV/SC enabled card or follow the next few steps.
This is the screen you will see to launch the browser.: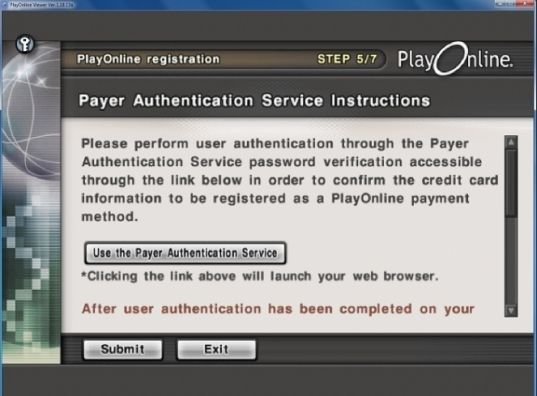 3. Hit the tab in POL to go to the next step in your browser.
4. After clicking next on the first page that opens in your browser, this is the page you will see: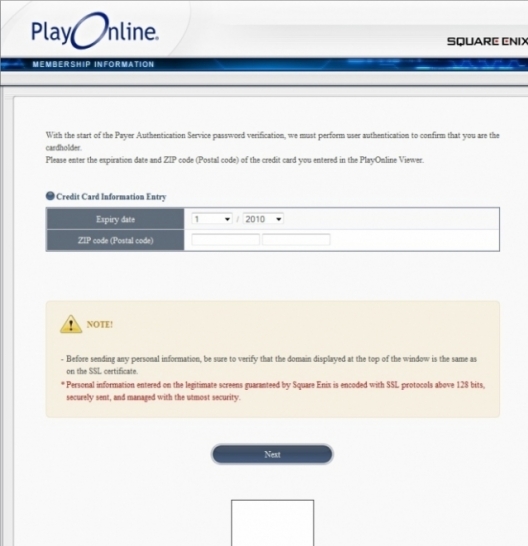 Enter the expiration date and zip code for the credit card you are using and select next. I highly recommend the prepaid route, or a non-SC/VbV credit card (assuming your financial institution does not participate).
Be aware that once you hit next, Square-Enix will post a temporary $1 charge onto your card.
While you won't actually be assessed this fee, it will enter onto your statement temporarily as a pending charge. Be careful when using a debit card for this as you can sometimes cause inadvertent overdrafts.
5. The next screen is the important bit. If you have noscript set to block scripts globally, the next page will load with verifiedbyvisa.com and verisign.com blocked. I assume if you were using a Mastercard, securecode.com would be blocked? Your loading page will look like this: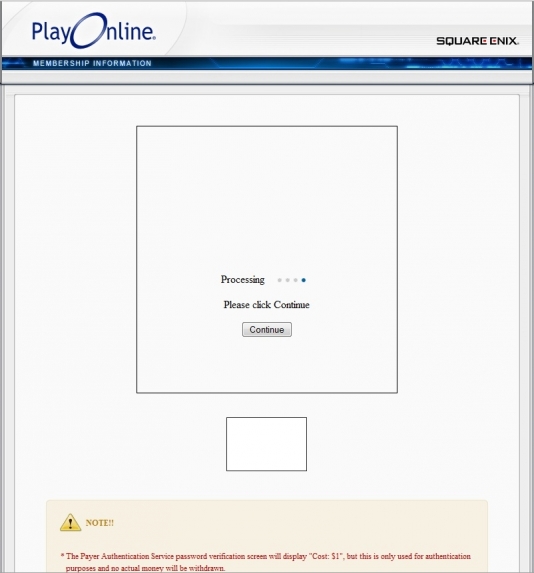 and this is how they look blocked in the noscript tab on the bottom right-hand corner of firefox: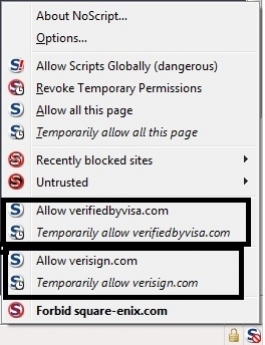 Until one or both of these sites are allowed, it will stay loading forever. Once you allow these two sites, the page will automatically refresh and
should
give you the option to go to the next screen.
The next screen should display that your 3D Secure has been verified and you can close the browser.
6. Go back to Playonline and hit next and follow the steps to create/reactivate your Playonline account.
7. ???
8. Profit.
If any of these are incorrect or if I missed a simple nuance in the process, feel free to correct me and I will update the OP. Also, I figured this would work better than necroposting the original thread.
Edited, Apr 19th 2010 8:51pm by Paskil