I did a thing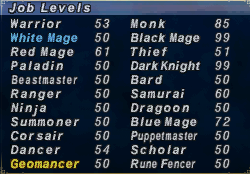 I feel like this has been pretty productive so far and it's not even over yet.
For reference all of those jobs that are now level 50ish? Yeah those were all way below level 50 to begin with.
I'd been pretty happy with myself leveling appropriate subjobs back when the level cap was 75. And then suddenly it wasn't anymore and I had like 1 sub for BLM and half a sub for MNK. Great when you're talking about Subway, bad in other contexts.
Edited, Aug 18th 2016 8:26pm by Callinon