PlayOnline wrote:
The Harvest Festival has returned and townspeople are celebrating the spooktacular occasion by dressing as fearsome monsters and attempting to scare the living daylights out of adventurers. In celebration of the event, we're looking for adventurers to submit their own boo-tiful screenshot of the festivities and qualifying participants will be awarded with a special Cushaw or Pepo Lantern in-game item! Read over the campaign details and get started on your monsterpiece!
Campaign Period
Pacific Time: From Tuesday, October 31, 2017 at 1:00 a.m. to Sunday 5, November, 2017 at 0:59 a.m.
Greenwich Mean Time: From Tuesday, October 31, 2017 at 8:00 to Sunday, November 5, 2017 at 7:59
Theme
Submit a screenshot of your celebration of the Harvest Festival!
Awards
The first 111 qualifying submitters per day (resetting each day at 11:59 p.m. (Pacific)/6:59 (GMT)) will each receive one (1) in-game item of your choice from the choices below:
Cushaw Lantern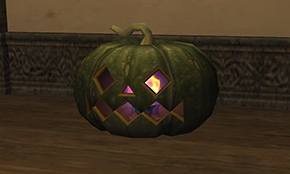 Pepo Lantern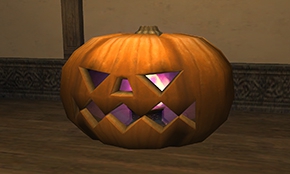 * Please note that the awards aren't transferable to another individual/character.
* Submissions will be disqualified if the submitter's delivery box is full at the time of prize fulfillment or if the character has transferred to a another World after submission.
How to Obtain an Award
Submit a screenshot that meets the campaign's theme. The screenshot must depict a very clear image of either your character, an NPC, a place, or a thing. Awards will be distributed after the campaign period.
You may practice submitting and formatting your post in the
practice/discussion thread
.
Once you are ready, please submit your screenshot in the
OFFICIAL SUBMISSION THREAD
.
Post your screenshot with the following information:
Your Character name (Current)
Your World name (Current)
Your choice from the available in-game awards.
Template
Character Name: [Character Name]
World: [World Name]
Award: [Cushaw/Pepo Lantern]
Example
Character Name: Sicycre
World: Atomos
Award: Pepo Lantern
You must abide by the following rules and guidelines when making your submission:
One (1) submission per character. If multiple submissions containing the same character are posted, only the first submission will be accepted for that character.
You must have a North American or European Square Enix Account.
If a screenshot contains names of other players, please ask for permission before submitting the screenshot. If you are unable to obtain permission from the other player(s), please be sure to hide their name(s) before submitting the screenshot.
You may use image editing software to crop, alter, enhance, or add more features to your screenshots as long as it clearly shows that the image is FINAL FANTASY XI-related.
Normal forum rules apply to all posts.
Square Enix reserves the right to remove or take down any content in its sole discretion.