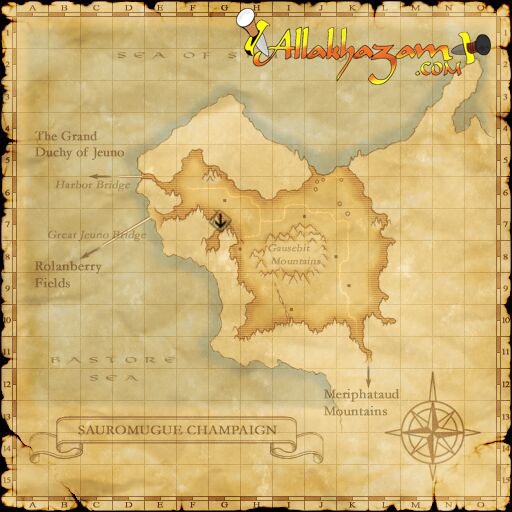 From Port Jeuno: Zone into Sauromugue Champaign and head southeast a short distance to camp.
From Kingdom of San d'Oria:
West Ronfaure -> La Theine Plateau -> Jugner Forest -> Batallia Downs -> Sauromugue Champaign
From Federation of Windurst:
West Sarutabaruta -> Tahrongi Canyon -> Meriphataud Mountains -> Sauromugue Champaign
From Republic of Bastok:
South Gustaberg -> North Gustaberg -> Konschtat Highlands -> Pashhow Marshlands -> Rolanberry Fields -> Sauromugue Champaign
Camp at (G-7) in path leading to small dead-end area.
Supports one party.
Set your home point in Jeuno, just a short walk away. Watch out for the nearby weapon mobs, which agro to magic casting.
---
This page last modified 2008-09-05 15:36:44.