This character profile is part of the FFXI Lore compilation. This page may contain SPOILERS. Read at your own risk.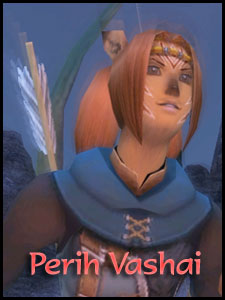 NPC Location: Windurst Woods (K-7)
Race: Mithra
Gender: Female
Nation: Windurst
Discerning Quote:
Perih Vashai appears in both the past and the present. In the past, she plays a key role in the defense of Windurst as the leader of the Anaconda Unit of the Mithra Mercenaries. In the present, Perih Vashai is blind, presumably from an incident that is yet to be revealed in the Wings of the Goddess storyline.
Perih Vashai appears in cutscenes of the following quests and missions.
Hold...hold...
Perih in the present
This page last modified 2009-05-02 21:05:02.