This character profile is part of the FFXI Lore compilation. This page may contain SPOILERS. Read at your own risk.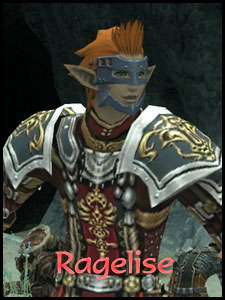 Race: Elvaan
Gender: Male
Nation: San d'Oria
Discerning Quote:
Sir Ragelise Baloumat is the leader of the Knights of the Ironcrest Hawk. He is mortally wounded by Haudrale in La Vaule (S), though Lilisette claims that he was supposed to have been injured in the Battle of Jeuno. He carries this wound for many years, staved off by a medicine made by Amaura.
Sir Ragelise appears in cutscenes of the following quests and missions.
You needn't worry, Portia.
This is where we fight!
Portia!!
Attacking Haudrale
This page last modified 2009-05-03 01:34:34.