This character profile is part of the FFXI Lore compilation. This page may contain SPOILERS. Read at your own risk.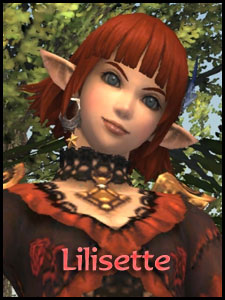 Race: Hume/Elvaan
Gender: Female
Discerning Quote:
Lilisette is a dancer and member of Troupe Mayakov. She appears to be from the present.
Lilisette dances on stage
The Moonshade Butterfly
Lilisette observes Cait Sith
Cait Sith scratches Lilisette
I must head for La Vaule.
On your mark!
Waiting for Cait Sith.
Napping during a meeting.
This page last modified 2009-05-03 01:35:05.