Family:
Leech
Found in:
Maze of Shakhrami

Level:
35 - 36
Flags:

Notorious Monster
Aggro
Linking
Detects by Sound
Pursues by Scent
Based on Water
Weak against Light
Strong against Water

Drops:
Updated: Thu Jul 9 20:57:51 2009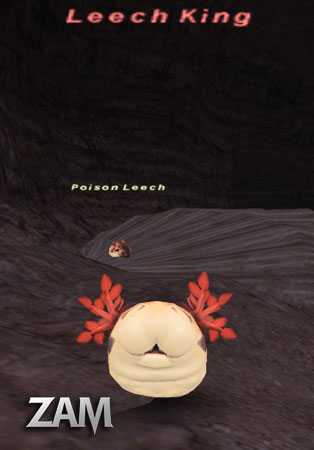 Leech King's Spawn Location
Shares a spawn timer with the notorious monster Argus between 18-30 hours from the last ToD for either Argus or Leech King.
Beginning eighteen hours after their ToD, sixty second windows with intervals of thirty minutes will open. If neither notorious monster spawns during a window, the next one will begin thirty minutes after the start of the previous window.
Acid Mist: AoE Attack Down effect.
Regeneration: Self target Regen effect. (Effect can be dispelled).
Suction: Single target physical damage with additional Stun effect.
TP Drainkiss: Single target TP absorption effect.
Drainkiss: Single target HP absorption effect.
Sand Breath: Frontal cone AoE Earth based magic damage with additional Blind effect.
MP Drainkiss: Single target MP absorption effect.
Brain Drain: Single target Dark based magic damage with additional Intelligence down effect.
This page last modified 2009-06-09 19:22:51.