Family:
Goblin
Found in:
Gustav Tunnel

Found at Location:
J - 9
Level:
55 - 59
Flags:

Notorious Monster
Aggro
Linking
Detects by Sight
Weak against Light

Drops:
Updated: Fri Dec 28 16:26:12 2007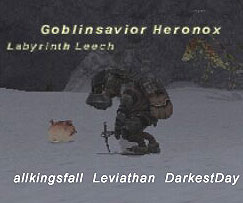 NM is a lottery spawn from the Goblin Reaper that spawns along I-8 and J-8.
NM uses Mighty Strikes.
Immune to sleep.
Builds quick resistance to gravity and bind.
This page last modified 2010-05-18 22:58:33.