Family:
Sheep
Found in:
Konschtat Highlands

Found at Location:
F - 8
Level:
19 - 20
Grants Title:
Mary's Guide
Flags:

Notorious Monster
Not Aggro
Linking
Detects by Sight
Pursues by Scent
Based on Earth
Weak against Lightning
Weak against Water

Drops:
Stolen Items:
Involved in Quests:
Updated: Mon Apr 12 20:10:11 2010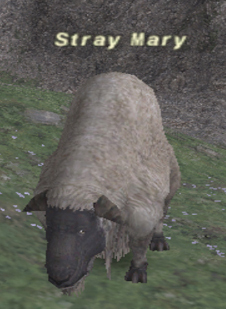 Respawn time can be up to three hours after its last Time of Death.
Susceptible to Paralysis, Gravity, Bind, and Stun.
Grants Title - Mary's Guide
Lamb Chop - Single target critical hit physical damage.
Rage - Self target Berserk effect (Effect can be dispelled).
Sheep Charge - Single target physical damage with an additional Knockback effect.
Sheep Song - AoE Sleep effect (Circle of effect originates from mob).
Stray Mary is a reference to the nursery rhyme "Mary Had A Little Lamb", about a stray lamb that follows around the main character of the rhyme, a girl named Mary.
This page last modified 2010-04-12 19:55:55.