Family:
Eft
Found in:
Bibiki Bay

Job:
Warrior
Level:
46 - 47
Flags:

Notorious Monster
Linking
Detects by Sound
Based on Fire
Weak against Ice

Drops:
Stolen Items:
Involved in Quests:
Updated: Wed Oct 31 03:08:47 2012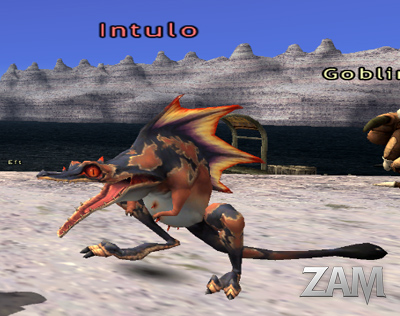 If the Wide Scan ability is used, the placeholder for Intulo is the Eft that is not listed in a group of other Eft, but appears between a group of Ravens and Marine Dhalmels.

Intulo's Spawn Location
Respawn time is roughly 1-4 hours after its last ToD.
Will always spawn on, or at the base of, the ramp way.
Geist Wall: AoE Dispel effect.
Nimble Snap: Single target physical damage.
Cyclotail: AoE physical damage.
Numbing Noise: Frontal cone physical damage with an additional Stun effect.
Toxic Spit: Single target Water based magic damage with an additional Poison effect.
In Zulu mythology, the Intulo was a part lizard, part human creature that was assigned by the creator deity of the Zulu people to deliver to them the knowledge that all life, both animal and plant, will eventually die. Intulo was given this task because the chameleon Unwaba, assigned to deliver to them the gift of immortality, moved at an exceptionally slow pace, thus annoying the deity. Because he did not want to defy the creator, Unwaba never divulged the gift of immortality to all life, and as such, Intulo is considered the bringer of death by the Zulu people.
This page last modified 2011-07-18 09:23:15.