Family:
Yovra
Found in:
Al'Taieu

Found at Location:
K - 12
Spawned using:
Sixth Virtue, Fourth Virtue, Fifth Virtue
Job:
Summoner
Secondary Job:
Black Mage
Level:
83
Pets:
Flags:

High Notorious Monster
Aggro
Detects by True Sound
Based on Lightning
Weak against Ice
Strong against Lightning

Drops:
Updated: Tue Nov 11 08:07:08 2008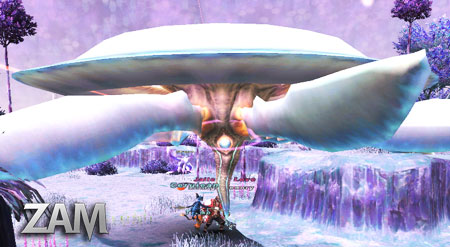 Jailer of Love's ??? Location
After three sets of Qn'xzomits and Qn'hpemdes are defeated, they will no longer be spawned, causing just Ru'phuabos to spawn.
Has a potent auto-regeneration effect that cannot be dispelled.
After three sets of Qn'xzomits and Qn'hpemdes are defeated, Jailer of Love's auto-regeneration effect will be greatly weakened.
Melee attacks have an additional Paralysis effect.
Will periodically change its base element, and will only cast spells based on the element it is based on at the time (i.e. it will only cast Fire based spells when based on the Fire element).
Nukes and skillchain effects based on the element Jailer of Love is at the time will heal it.
After Jailer of Love is defeated, the notorious monster Absolute Virtue will spawn.
Magic Spells: Capable of casting Tier 3 -ga, Tier IV single nuke, and -ga versions of enfeeble spells based on what element it currently has affinity to.
Fluorescence: Self target Attack boost effect that wears off on the following melee attack or physical tp move. (Effect can be dispelled)
Torrential Torment: AoE magic damage with an additional effect of unequipping all gear.
Vitriolic Barrage: AoE magic damage with an additional Poison effect. Damage is calculated by dividing 1,000 by however many players and/or pets are hit by it. This means that a Vitriolic Barrage that hits ten targets will do a maximum of 100 damage to them.
Concussive Oscillation: AoE damage with additional Gravity and Knockback effects.
Primal Drill: AoE physical damage with an additional Bind effect.
Ion Shower: AoE magical damage with an additional Stun effect.
Asthenic Fog: AoE Water based DoT with an additional Strength down effect.
Luminous Drape: AoE Charm effect.
Astral Flow: Causes the current pets spawned to perform the same tp move simultaneously. Denoted by the characteristic mob two hour animation. (Can occur multiple times)
This page last modified 2009-09-10 17:04:46.